June 5th, 2009 |

Author:
Vanessa Warren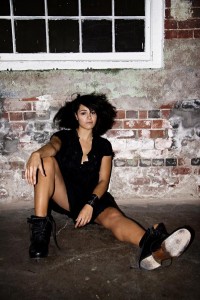 I will admit to being late to the water with this young lady, who ended up my in-box and I'm mad I was sleeping. Think cool blends between Sade and Esthero where Zaki Ibrahim's style has that edge and grit which takes from soul, rap, electronica, Brazilian, afro and broken beat, and her strong vocals weave between each genre effortlessly. Eclectica (Episodes in Purple) is her second EP, and should gain a ton of acclaim in the US and the UK. "Love-Like" with its atmospheric introduction is produced by Canadian producer Nick Holder where he brings water sounds created with the Rainstick and with Zaki's vocals, they both create something that is ancestral. On the remix of "Money," King Britt sprinkles his afro beat magic star dusk and Zaki's jazzy yet emotional wails continue the tribal themes apparent on the EP; I can't get enough of it. Check out the songs below.
"Money" King Britt Mix from Eclectica (Episodes In Purple)
Audio clip: Adobe Flash Player (version 9 or above) is required to play this audio clip. Download the latest version here. You also need to have JavaScript enabled in your browser.
"Love-Like" from Eclectica (Episodes In Purple)
Audio clip: Adobe Flash Player (version 9 or above) is required to play this audio clip. Download the latest version here. You also need to have JavaScript enabled in your browser.
Get your copy of Eclectica (Episodes In Purple) from iTunes today!