December 7th, 2012 |

Author:
Vanessa Warren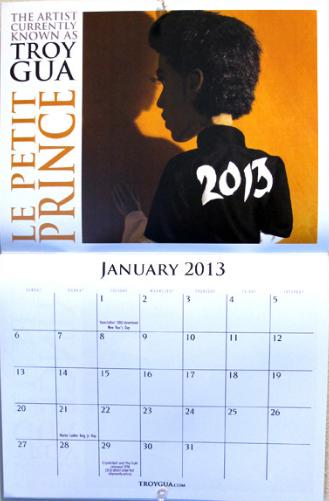 As you may well be aware – we here at Muphoric Sounds fell deeply in love with Le Petit Prince – the loving tribute created by Troy Gua of his idol Prince in the form of a marionette – a la Thunderbirds style. Once Gua started sharing images amongst his friends, they began to spread like wildfire turning LPP into a viral internet sensation. Unfortunately, on Monday, November 12th, Gua was served with a 'Cease & Desist' order to remove Le Petit Prince from the internet by November 16th. So now, LPP cannot be viewed on any online channel managed by Gua.
Fortunately, we were able to obtain a copy of the LPP Calendar — which is now a collectible item — and are offering it to ONE lucky person in our year-end giveaway.
HOW TO ENTER:
Send an email to contests@muphoricsounds.com with subject line "LPP" by Wednesday, December 19, 2012 at 11:59pm EST for a random drawing. The winner will be notified by Saturday, December 22, via email. The winner must respond by Sunday, December 23rd at 11:59pm to claim their prize. Failure to respond to the notification email by Sunday, December 23rd, the LPP Calendar will to offered to another entrant.
(Please note: We dislike spam as much as you do; your contact information will never be sold nor rented, in compliance with US Spam Laws.) So get yourself in it, to win it, and share the word with your friends.
One Response to "Win a Le Petit Prince 2013 Calendar by Troy Gua! (Giveaway)"