Sunday, July 11th, 2010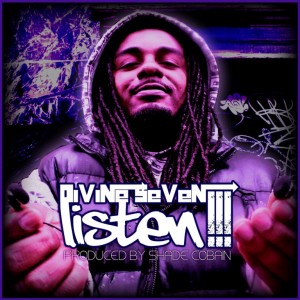 If you're looking for an album you can just let play, LISTEN!!! is it! Hitting us with his third release, DiViNe SeVeN, hails from Pittsburgh, PA, a town that is often forgotten. But know that big things are happening in the city of Pittsburgh.
On LISTEN!!!, DiViNe SeVeN teamed up with Shade Cobain (Shade Cobain was featured Muphoric Sounds last month – check it out here) for the production and collaborated with a few friends from Pittsburgh, such as A.P.E.X, Tabu Mahogany, Jon Quest, Beedie, Living Proofe, Vaig, and L. King who all sprinkle their distinct flavours on the album. What you get are gritty tunes, with hard slapping beats, dirty basslines, which are funky and delve through many genres to create interesting sounds. With DiViNe SeVeN's lyrical flow laid on top, the music is reminiscent of a DJ Premiere tune. What's also interesting, while DiViNe SeVeN does not sound like the late Guru, there's something in his flow that would put one in the mind of him, or his protege's Group Home.
His previous recordings are The Native Son and Seven Wonders…The EP, which were both released in 2008 to critical acclaim, and he quickly became the staple to underground hip hop in Pittsburgh. DiViNe SeVeN is the recipient of Hip Hop Buffet's 2008 Best Male and 2009 Best Group Performance awards, and has been nominated for 2009 and 2010 Pittsburgh Hip Hop Awards Underground Artist of The Year. Definitely an artist to watch out for. He is currently working on his next album, The Life and Times of Dat Turner, and a mixtape entitled De Talk About: Vol. 1, which are both scheduled to release towards the end of the year, early 2011.
Check out a couple of cuts below and get yourself a copy of LISTEN!!!, a solid album which can be downloaded for FREE here! Let me know what you think.