Friday, June 19th, 2009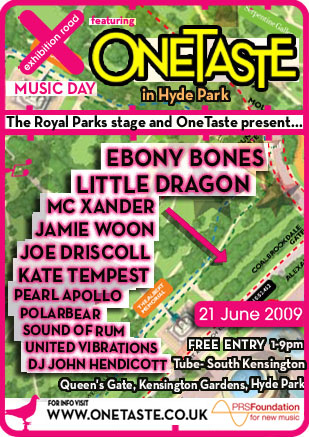 One of the things we do here is bring to you news about new artists and events. I'm so bummed that I won't be in London for this one!
OneTaste is hosting the Exhibition Road Music Day to be held at London's Hyde Park on Sunday, June 21st, from 1pm through 8pm.
The line-up is fantastic. With main headliners Little Dragon; actress and singer Ebony Bones; human beatboxer MC Xander; unique R&B singer Jamie Woon; poet and rapper Polarbear; rapper, poet, and playwright, Kate Tempest with band Sound of Rum; one man band, Joe Driscoll; the soulful electro-pop duo, Pearl Apollo; ska, funk band, United Vibrations; and electronic hip-hop, funk, and broken beats, DJ John Hendicott.
It definitely is "a not to be missed" event. So if you're in the London area, brush off your Oyster travel cards and spread your sheets on the grass to take in some good music. It's also a great event for all those hipster pops to spend their Father's Day soaking in the sun and notable artists.