Friday, January 14th, 2011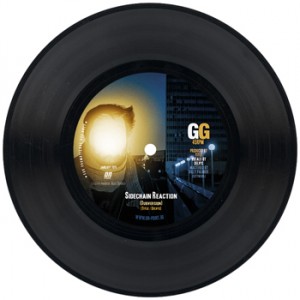 During the summer, I saw a video of Uphigh Collective performing their song "Blend" on Studio Brussels radio show. From the video, I heard the beat and an instantaneous head nod took over, not knowing what to expect from Delvis as he stood before the mic. Out shot this soulful, jazzy voice making Uphigh Collective a perfect blend.
So who is Uphigh Collective? They're a group of two young (23-year-old) artists from Belgium, who hit the scene on an On-Point Records 7-inch — where Title was featured on A-Side, with his base heavy instrumental track "Caravan" (check it out here) and on the B-Side featured the tune "Blend" which was also produced by Oddlaner, Ducap and I-sa, and had the vocals of Delvis on the track (see video below). Delvis's voice is unusual—it has a feminine silk texture but also a masculine rawness; and Title's production is atmospheric, with hard basslines and an experimental sound. On-Point Records describes Uphigh Collective as "Nina Simone meets Cinematic Orchestra." I would add some of Jamiroquai into their musical styling also.
Check out their latest single "Sidechain Reaction" below. It will be hitting stores at the end of January – 300 vinyl 7-inches will be hand-numbered and will be available on iTunes. Both Delvis and Title are working on solo projects to be released later this year. Expect to hear more from these guys in the interim too. Will keep you posted!
Sidechain Reaction feat. Delvis

Uphigh Collective – Blend – Live on Studio Brussel from On-Point TV on Vimeo.