Sunday, July 31st, 2011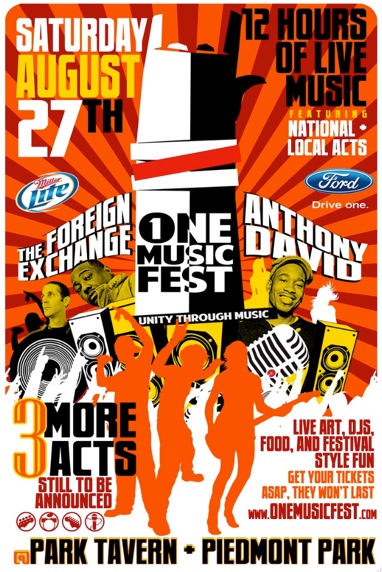 The city of Atlanta marks its 2nd Annual One Musicfest on Sunday, August 27th, in Park Tavern's concert space with twelve hours of non-stop live music. This year's confirmed artists include alternative hip-hop group The Pharcyde, Grammy nominated artists, Anthony David, and The Foreign Exchange. More artists will announced, including featured DJ's and live artists.
Muphoric Sounds has two tickets for giveaway! Send an email to contests@muphoricsounds.com by Wednesday, August 14, 2011 for a random drawing. The winner will be notified by Saturday, August 20, and their name, plus one will be added to the guest list for the day. (We dislike spam as much as you do; your contact information will never be sold nor rented, in compliance with US Spam Laws.) So get yourself in it, to win it, and share the word with your friends.
For more information about the event, visit www.OneMusicFest.com.