Wednesday, October 13th, 2010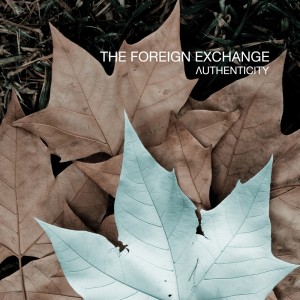 As we enter the 'blanket' season, what better way to keep warm than with The Foreign Exchange! I don't know exactly what it is about Nicolay's production coupled with Phonte's vocals that taps into my senses, but I can play these guy's music for hours and not feel like a rotating fool! It truly was a blessing when these guys found each other on the Okayplayer message boards (Nicholay residing in Holland and Phonte in North Carolina) and started to share music amongst themselves back in 2002. Fast forward 6 years later, they are now a Grammy winning nominated group! Do not underestimate the power of the internet!
Authenticity is aptly titled, as they have stayed true to themselves in their musical journey, pushing their conventions a little further, but not displacing their audience during their growth. Authenticity is the LOVE album, getting to a place of calm, of being unafraid to show weakness or vulnerability.
Always enlisting great talent for their projects, Authenticity features longstanding musical friends YahZarah, Darien Brockington, Zo! and Median, and also relative newcomers Chantae Cann and Jesse Boykins III. Check out "Maybe She'll Dream of Me" (which is also available for free download in courtesy of Foreign Exchange Music) and "Don't Wait." With Nicolay's sprinklings of Prince influence on various songs, Authenticity gets my stamp of approval.
"Maybe She'll Dream of Me" (Download)
Audio clip: Adobe Flash Player (version 9 or above) is required to play this audio clip. Download the latest version here. You also need to have JavaScript enabled in your browser.
"Don't Wait"
Audio clip: Adobe Flash Player (version 9 or above) is required to play this audio clip. Download the latest version here. You also need to have JavaScript enabled in your browser.
Authenticity is available for purchase on Foreign Exchange Music website.