Sunday, December 6th, 2009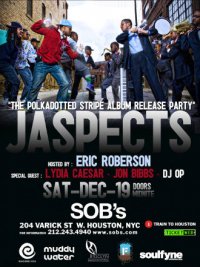 Back in May, Muphoric Sounds brought the sounds of The Jaspects to you, the band who all met while they were students at Morehouse College. With the release of their album, The Polka Dotted Stripe, Eric Roberson is hosting their album release party at one of New York's world renowned venues, SOB's! The night will feature opening acts by Lydia Caesar and Jon Bibbs.
Muphoric Sounds has two tickets for giveaway! Send an email to contests@muphoricsounds.com by Wednesday, December 16, 2009 for a random drawing. The winner will be notified on Thursday, December 17, and their name, plus one will be added to the guest list for the night. (We dislike spam as much as you do; your contact information will never be sold or rented, in compliance with US Spam Laws.) So get yourself in it, to win it, and share the word with your friends.
Here's a refresher on the sounds of The Jaspects!