Tuesday, August 24th, 2010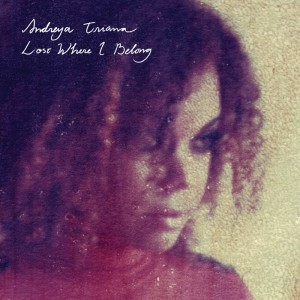 Andreya Triana has one of those musical stories that follows the basic principal — with talent, coupled with hard work and determination, bring results. From attending the Red Bull Academy in 2006 (if you know anything about the vigorous application process and program, you'd know only people with exemplary talent are accepted into the program!) to being the dreamy vocalist on Flying Lotus's "Tea Leaf Dancers," in 2007, which became a global underground sensation, Triana is one of those artists who I expect to be around for a very long time.
Her debut, Lost Where I Belong, which was released yesterday, is an honest journey through music with Triana, bringing in an amalgamation of sounds that come together into what is Andreya Triana. Produced by her collaborative partner, Bonobo, known primarily for his downtempo beats, Bonobo created sounds that complimented Triana's voice, knowing exactly when to filter the music in ways which allowed Triana's warm, soulful, yet jazzy vocals to come forward in her beautiful sound.
Our friends over at Put Me On it attended the Soundwave Festival in Croatia this summer, and filmed the video below of Triana performing "Lost Where I Belong." It's outdoor, it's intimate, and it's quite lovely. We get to see Triana perform with such warmth and intimacy. Enjoy! Unfortunately, the video no longer exists. However, please watch the official video for "Far Closer"; an equal treat.