Thursday, May 13th, 2010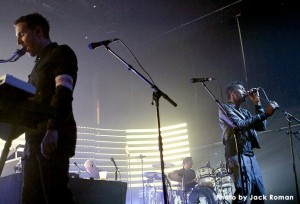 Clearly, politics was what was on Massive Attack's mind at the wake of Britain's conservative party take over. As the group's co-founder, Robert "3D" Del Naja told the audience, "They say you get what you deserve. Tonight you've got us," a reference to the day's top news story.
Massive Attack's last show in New York at the Roseland in 2006, the duo played their chilling sonic sounds with LED lights as the stage's backdrop, adding a visual aura to their sound. This time around at New York's Terminal 5 on May 11, 2010, they used the space not only as visual stimulation, but also to broadcast harrowing statistics, revolutionary facts and quotes by like minded thinkers, such as Howard Zinn (who passed away earlier this year) and the late Malcolm X, with the occasional reference to www.peoplespeak.com – a movement inspired by cultural critic and historian, Howard Zinn.
Equip with their prime artists, roots reggae singer Horace Andy, Martina Topley Bird (known largely for her work with Trip Hop pioneer, Tricky), and Deborah Miller, each delivered their tunes with heart, and performing songs mainly from Massive Attack's new album Heligoland and their seminal album Mezzanine for a two hour set. Deborah Miller's performances of "Safe From Harm" and "Unfinished Sympathy" were truly amazing. Considering Miller wasn't the vocalist on the original recording of "Unfinished Sympathy," she has taken it and made it her own. Check out the medley put together from the show. Enjoy!