Saturday, December 5th, 2009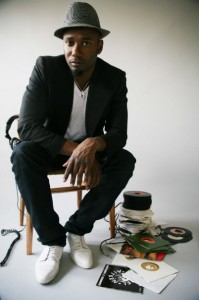 If you're from Brooklyn, you've come into contact with Dhundee in one way or another, from his DJing at some of New York's exclusive parties and club nights. A Baltimore native, now residing in Brooklyn, Dhundee's musical journey is one that is hard to categorize, as he manages to encompass various musical genres without coming across as contrite or far-reaching. With the recent official release of his album, Take Flight, which features an array of fine artists and showcases his skills not only as musician (Trombone and Drums) and producer, but even a singer! Take Flight contains innovative, atmospheric musical arrangements to chill to, or even work up a sweat to on the dance floor. Highly respected within the industry, working with Waajeed (from Platinum Pied Pipers), Cecilia Stalin, Sarah White, Kissey Asplund, Michelle Amador, his new album has begun to gain attention from other amazing producers, such as the recently retired Domu, who remixed "Tomorrow," and features the sexy-jazzy-cool vocals of Swedish singer, Cecilia Stalin.
Watch the never-before-seen until now video created by Dhundee, where he rocks the beat. And below, he shares with Muphoric Sounds his musical path and process, his new album, and what's on his horizons. Taking his music across the seas, the name Dhundee is one you should pay attention to. His album can be purchased from his Bandcamp page. Enjoy!
1. Who is "Dhundee"?
Dhundee is a Producer, Musician, DJ, Daddy, Connector, Biz Owner who resides in Brooklyn.
2. Do you think you would be the "Dhundee" you are today if you stayed in Baltimore? Why?
Yes. Dhundee started out in B'more 17 years ago. I was in 2 bands — one hardcore rock band and the other, a jazzy hip hop band. I was very involved with making music even before that so I would and could set up shop anywhere I lay my hat.
3. People always say, there's something about Brooklyn. How has being based in Brooklyn influenced your creativity?
There is definitely something special about Brooklyn. I am influenced by the different sections of Brooklyn, the people, the style, the attitude, the kids, the hustle, the crazy conversations I overhear walking the streets, the conversations I have with the gypsy cab drivers that I come from all over the earth listening to their music while riding in the cab, the feeling of leaving the city and riding over the bridge; leaving the hustle behind me. Most of all I like the pace here and how you can set your own if you choose to.
4. Who are your main musical influences? What did you grow up listening to?
I grew up listening mostly to soul, hip hop and house music, later jazz, electronica, trip hop, Ultramagnetic MC's, De La Soul, Ralph MacDonald "The Path", KRS 1, Leaders of the New School, Tribe, Native Tongue Fam, Jimi Hendrix, 90's rock, Lala Hollaway and ole school B'more Club and Chicago House music, Prince, Stevie, Michael, Stereolab, Can, early Ninja Tune records.
5. Being a musician who plays multiple instruments, what do you prefer when composing music – instrumentation or computerization? Why?
I prefer using both. I approach each song differently. Being that drums/drumset is my main instrument, I usually start off doing drum solos in my studio first. As I'm playing, I can hear the bass lines and chords, and from there I record digitally into the computer. It's a lot cheaper than reel to reel tape and a lot more efficient.