Tuesday, January 18th, 2011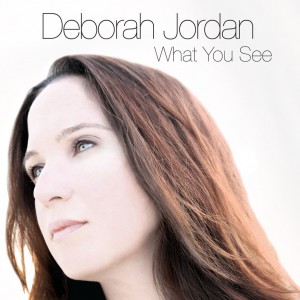 London-based singer/songwriter, Deborah Jordan's sophomore album What You See is scheduled for worldwide release at the end of this month. It's definitely more beat heavy than her debut The Light—giving us something not only to listen to, but also to dance to. And as always, Deborah's vocals are Patrice Rushen smooth, providing lush vocal phrasings and great songwriting which float between downtempo, neo soul and new jazz. What You See features the talents of hip hop DJ Simon S., alternative producer Kira Neris, and Marc Rapson.
I've been listening to Deborah's music for years now, and didn't know she is a classically trained flutist, who strangely enough had no aspirations to sing. When she hit university and met Robert Mitchell, she joined his contemporary jazz band Panacea and from there, opportunities became boundless — starting with backing vocalist for Eska Mtungwazi and Bembe Segue, which later lead her to being the lead vocalist on Dego and Kaidi Tatham's Silhouette Brown's self-entitled debut album, moving on to her solo release, The Light, and also releasing and album under the group name of Suncircle with Simon S.
What You See is a solid album where  Deborah's vocals glide over each tune effortlessly. Check out some of the tracks below. Currently What You See is available at the following vendors – Groove Distribution, Moods Music, and Dusty Groove.
Nothing Lasts (Rise Remix)
Audio clip: Adobe Flash Player (version 9 or above) is required to play this audio clip. Download the latest version here. You also need to have JavaScript enabled in your browser.
Slipping Away (Ty Macklin Remix)
Audio clip: Adobe Flash Player (version 9 or above) is required to play this audio clip. Download the latest version here. You also need to have JavaScript enabled in your browser.