Thursday, May 28th, 2009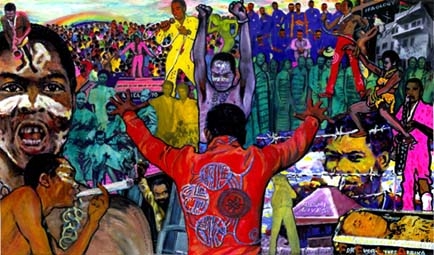 Lemi Ghariokwu is the artist who was responsible for creating Afrobeat legend, Fela Kuti's iconic album covers, which not only illustrated his outstanding talent as a visual artist but also how he used art to create political statements apropos to Kuti's prolific message. Punch Records has secured the rights to the graphic designer and fine artist's archive and has partnered with the BASS Music Festival (British Arts and Street Sounds), to tour the Art's Own Kind exhibit across the UK starting on June 9 at the Rich Mix in Shoreditch, London.
Opening night will bring key Afrobeat players, such as pioneer Tony Allen, who was Kuti's musical director and drummer; Wunmi (the Queen of Afrobeat); Rich Medina (of Jump n' Funk, NYC); and the visual artist, Lemi Ghariokwu for performance and panel discussion. The Art's Own Kind exhibit is scheduled to end July 6.