Thursday, July 29th, 2010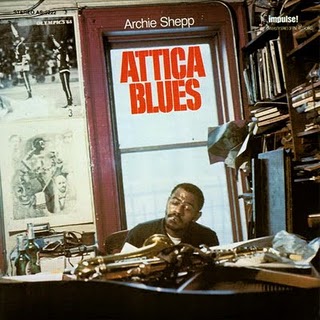 Borrowed from my mom's record collection about eight years ago, the LP Attica Blues contains a song  "A Blues for George Jackson" by Archie Shepp, which struck me as an odd idea at first. Revolutionary activists and jazz musician, Archie Shepp was born in Fort Lauderdale, Florida around 1937. He began his career as a recording artist with Bill Dixon, and in 1964 began to record albums with Impulse Records. An extremely talented musician, Shepp is known to be one of the great pioneers of Avant-Garde Jazz music. He plays the alto and soprano saxophone, the piano, sings blues verses, and even raps or "speaks" on his songs. Shepp has recorded over 42 albums working with artists such as Max Roach, the Mal Waldron Trio, Horace Parlan, and John Coltrane. Shepp is still touring a performing today.
The name George Jackson drew me to Shepp. Without giving a full history of George Jackson or "Attica," I'll just say that Shepp defined himself as an African American jazz musician and he made musical statements about how he felt. George Jackson was assassinated and this is his blues for him. Recorded at a time of civil rights movement and rebellions in Black communities, it was a politically charged time. The song feels like Shepp has put someone on trial, a chant, or speech with repetitious choruses. Complete with bass, drums, percussion, piano, and a mean saxophone, you feel the emotion in this song. When I hear it I think of how art can really amplify the fight for human rights and social justice with musical notes or paint strokes.
Check out "A Blues for George Jackson" below and let me know what you think!