November 7th, 2012 |

Author:
Vanessa Warren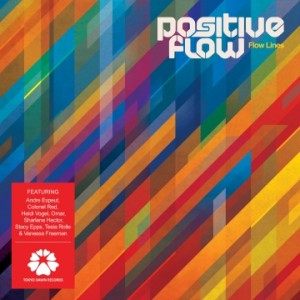 Tokyo Dawn Records never steers me wrong! UK producer and multi-instrumentalist, Positive Flow is a veteran when it comes to being at the forefront of UK's underground soul and new jazz sounds. Born and raised in Canterbury, Kent to musical parents and was school friend was Omar (the Godfather of UK Soul), Positive Flow has released a lot of music under various monikers and covered a wide spectrum of sounds. As he says in his bio of his leanings to music, "If it's deep, if it's quality – I'll likely be into it. DJ sets and personal listening vary a great deal but generally I always fall back to some form of deep soul and a jazz chord."
And that is exactly what Flow Lines gives. Featuring some of the best in UK Soul, from Omar, Vanessa Freeman, Colonel Red, Heidi Vogel of Cinematic Orchestra to Stacy Epps, Sharlene Hector, newcomer Tesia Rolle, and Andre Espeut – the music is food to your ears from the vocals to the musical arrangements – blending soul, funk, Brazillian, and broken beat flavours. Flow Lines is gorgeous!
Scheduled to release in digital format November 19th and on CD release December 3rd, from the sample tracks below you will hear that you need Positive Flow in your life! Visit Tokyo Dawn Records to pre-order.