November 20th, 2012 |

Author:
Vanessa Warren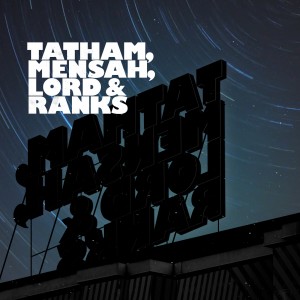 Back in September, we shared a few tracks from this new collaborative self-titled album Tatham, Mensah, Lord & Ranks, and it certainly has delivered! From start to finish, the collection of tracks are amazing. The musical arrangements are so full, with each listen you focus on a different aspect of its production. The musicianmanship on this is album is incredible.
Kaidi Tatham, Akwasi Mensah, Matt Lord, and Dego Ranks have come together in what is a collimation of their own distinct sounds – they are all solo musicians in their own rights, who all in different capacities created a sound of London back in 2002 that had not been done since the Soul II Soul of 1989. Featuring London-based producers Mark Force (formerly of Bugz in the Attic), Eric Lau, vocalists Bembe Segue, Sarina Leah, Nadine Charles, who all fall into place as though Broken Beat never left. The sound of Tatham, Mensah, Lord & Ranks is so rich, with full basslines and percussive sounds that make you want to be in the throes of it all.
Worth every penny, get yourself here!
"Native (Fool that I May Be)" feat. Bembe Segue
Audio clip: Adobe Flash Player (version 9 or above) is required to play this audio clip. Download the latest version here. You also need to have JavaScript enabled in your browser.
"Celebrate"
Audio clip: Adobe Flash Player (version 9 or above) is required to play this audio clip. Download the latest version here. You also need to have JavaScript enabled in your browser.
One Response to "New Collaborative Album by Tatham, Mensah, Lord & Ranks (Audio)"