September 27th, 2009 |

Author:
Vanessa Warren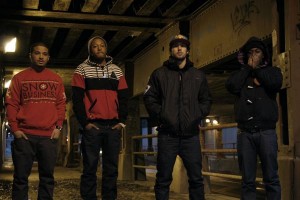 When I finally got around to listening to the KEYEL Mixtape (which became available for download Sept 24), I actually felt a wave of sorrow. Sorrow, due to the current state of the music industry, that artists have to "give" their music away, and KEYEL's mixtape is worth that $9.99 – if not more!
Hailing from Cleveland, Ohio, emcees Prose, Holy Moly, Pease, and DJ ESO work exceptionally well together. The mixtape is a culmination of classic hip hop and alternative sounds. Their first single "Mary Jane" which was produced by German beatmaker fLako, is a smoothed out tune with a nice melodic la la la la la. The real treat is actually on the mixtape, where the song extends to an additional minute and a half, with a dope funky music change and an Eryka Badu type harmony. Definitely sounds like a Mary to me!  "Hanging by a String" was produced by the eclectic Sa-Ra Creative Partners. Their beats have just enough Dilla inflection to make it their own, with fun flowing rhymes, cool outros, and inventive musical arrangements, which go beyond hip hop.
Download your copy of the KEYEL Mixtape Vol. 1; you will enjoy it!
KEYEL excerpt from "Mary Jane" on Mixtape Vol. 1
Audio clip: Adobe Flash Player (version 9 or above) is required to play this audio clip. Download the latest version here. You also need to have JavaScript enabled in your browser.
"Alternative Jawn" prod. by Sa-Ra Creative Partners on Mixtape Vol. 1
Audio clip: Adobe Flash Player (version 9 or above) is required to play this audio clip. Download the latest version here. You also need to have JavaScript enabled in your browser.
2 Responses to "KEYEL – Mixtape Vol. 1"