August 27th, 2012 |

Author:
Sawandi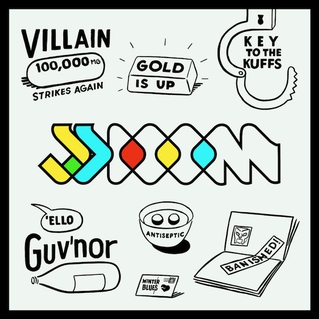 JJ Doom is the latest collaborative effort from the enigmatic rapper and producer DOOM. This time he teams up with producer, emcee, multi-instrumentalist, Jneiro Jarel.
No stranger to the game, Jarel has a pretty impressive resume. From joint work with Khujo Goodie of Goodie Mob and TV on the Radio's David Sitek, to projects under his Dr. Who Dat moniker such as Beyond 2morrow, Jneiro Jarel has had is hands in some really good, envelope pushing work. DOOM's past projects like Madvillainy and MM..Food are considered classics by many and speak for themselves.
On a quick initial listen, I honestly felt a pang of disappointment with the project. By the time I got to my second listen, what sounded confusing and a bit scattered, began feeling more and more cohesive. Jarel's off the wall sample based loose electronic beats fit well with DOOM's unpredictable, well thought out, "did he just make _____ rhyme with _____?" style. This is an album that grows on you. It can take a few listens for some to grasp the subtle intricacies in the beatmaking and rhymes and skits. Others will love it immediately.
Highlights on the album include "Guv'Nor," "Winter Blues," and "GMO" featuring Portishead's Beth Gibbons. Digital album is available on iTunes and the CD and double vinyl will be available September 18th on Lex Records. Check out a few cuts below.
"GMO" featuring Beth Gibbons
Audio clip: Adobe Flash Player (version 9 or above) is required to play this audio clip. Download the latest version here. You also need to have JavaScript enabled in your browser.
"Winter Blues"
Audio clip: Adobe Flash Player (version 9 or above) is required to play this audio clip. Download the latest version here. You also need to have JavaScript enabled in your browser.