January 23rd, 2012 |

Author:
Robert Trujillo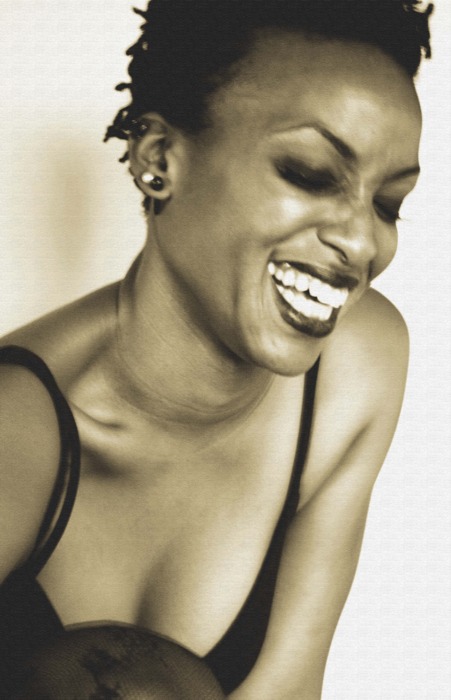 Soon the name Siaira Shawn will be listed as one of music's greatest up and coming artists. But don't let that box keep you confined, Siaira's music will probably be defined by many more genres such as R&B, Jazz, and Rock to name a few.
Few people can belt out a tune clearly and melodically at a rally, wedding, street corner, or office as well as she can with little to no strain. Relaxed and modest however, you would never know it unless you asked. California's Bay Area has a historic body of incredible musicians and producers who have broken ground on new frontiers of music, and the business of independent music regardless of genre. Siaira is part of that legacy. If you look up her work, you'll see she has shared the stage and beats with Bay Area fixtures such as revolutionary rhymer T-Kash (Guerilla Funk/ The Coup) and producer Nick James who is responsible for countless remixes and a few cuts for Native Gunner Bambu. You might also hear her on tracks produced by Zakiya Harris (Fiyawata).
In this interview I ask Siaira a few questions about her musical career, the future, and what inspires her as she prepares to set sail for Brooklyn, New York. Welcome Siaira Shawn to Muphoric Sounds.
MS: What does your stage name mean? How did you get it?
Siaira Shawn: My stage name is my first and middle name. Mommy gave me the first name, and she allowed my fathers choice to be my middle name.
MS: For our listeners/readers who are unfamiliar with your work, how would you describe yourself as an artist? Who are you and what do you do?
Siaira Shawn: I am a lover, an all around artist, a worker of and for the community, an aspiring renaissance woman, in the tradition of Paul Robeson and others; my ultimate expression is being a singer/songwriter.
MS: What are some of your biggest influences in terms of your songwriting and singing?
Siaira Shawn: I get influences from everywhere; from my life, others lives, culture, history, politics, nature. I want to speak of and for people. I want to speak the truth and spread love and contribute to culture. I like to make the macro, micro; I think we learn in many different ways and music is a very important tool of liberation and education.
MS: Can you tell us briefly what your first positive performing experience was like?
Siaira Shawn: One of the most important performances occurred when I was in the fourth grade and I starred in Alice in Wonderland and my solo received a standing ovation. That moment solidified that performing would be my life.
MS: You've performed a lot as an up and coming musician. How would you say this has changed, advanced, or influenced your craft?
Siaira Shawn:I feel like you have to perform, it's a part of being a musician, so it's not separate from my musicianship. Performing makes you a better artist period.
MS: How's the music biz looking to you in 2012? Is it a grim or bright world?
Siaira Shawn: I see a very, very bright world. I think there is a lot of great music out there and it's finally starting to get it's due, particularly independent soul/R&B music and all the amalgamations that pull from that tradition. A lot happened for me last year, so I see 2012 as the year where things go to the next level.
MS: Your voice and your style of delivery is beautiful and unique. I've noticed you have a certain flair when it comes to fashion too. Is that on purpose or is it less "thought out" or planned?
Siaira Shawn: Thank you! It's always been apart of who I was, the women in my family are quite fashionable, even my great grandmother. I have always been into fashion and aesthetics. I actually do styling too, so I want to take that farther as well. At this point it comes naturally, but I do think about it in the way that "my look" is seen as outside the norm or unique as you said. I want to make sure that I represent who I am wholeheartedly and by doing that I can inspire others to do the same and represent for those of us on outskirts. I hope to curate images that are unique and promote culture through a venture I call "The Outsiders Inside."
MS: Being from the Bay area, how has your hometown or environment shaped your sound/lyrics? Have any other cities added to "Siaira"?
Siaira Shawn: Yes, I was born and raised in San Francisco. Growing up in the Bay has definitely shaped me as an artist.  I think we produce very unique artists here. It is a great place to develop as an artist and incubate because there is so much culture and music here. There is such a spirit of activism and independence here and that bleeds into everything I do. I lived in DC for a year as a freshman at Howard (University) and I frequent New York a lot and I am moving to Brooklyn as I type. So, being on the east coast definitely influenced me. I just always wanted to work everywhere, I never wanted to be just a "Bay" artist. So going to other cities and performing in DC, NY, LA, TX, has let me know I have an appeal everywhere.
MS: Any new plans for 2012?
Siaira Shawn: Definitely more music, more performing, I'll be releasing music videos, and I will be starring in a theater production. I also have plans to do more styling, education, and community work; I want to bring redbikeandgreen.org (a community building collective of Black cyclist seeking to improve the physical and mental health, economy and environment of the Black Diaspora) to Brooklyn and hopefully a manager and a company that believes in me and takes me to the next level. Changing a little bit of the world.
MS: Any shout outs you'd like to give?
Siaira Shawn: Too many [laughs] but, particularly, Christine Mehr, Marta Martinez, Melinda James, Nick James, and George Hearst. I just want to thank everyone who has supported me thus far!  Thank you and I won't let you down!
MS: Name five musicians you have a constant rotation right now in your headphones?
Siaira Shawn: Hmm… Bilal, J*Davey, Emily King, Muhsinah, and Lianne La Havas.
MS: You released a music video in 2011. Can you tell us a bit about the song and the video?
Siaira Shawn: Not quite, a great friend of mine Nick James (look him up lol) and I just did a DIY style video, splicing some beautiful images together for my song "Dusk." Dusk is a song about going after your dreams, working hard and being ready to attain them. I have an actual video coming out for my single "Icarus" directed by Melinda James and that's coming out in the spring, so look out for it!
"Dusk"

One Response to "Interview with Fresh New Artist Siaira Shawn (Audio)"