August 16th, 2010 |

Author:
Vanessa Warren
The build up to the release of Bilal's official third album, Airtight's Revenge has been non-stop for the artist. Currently on a hectic schedule, doing a slew of lives shows both in the States and Europe, with press interviews, Muphoric Sounds was able to get some face time with Bilal. Meeting at L.A. Burdick in the Flatiron District of Manhattan, in a cool environment furnished with delicious chocolate coffee, we spoke at great length about his career, overcoming misfortunes, his clear passion in music, and his forth-coming release, Airtight's Revenge. His integrity as an artist is unmistakeable and so refreshing. Check out the interview below. [Note: this was supposed to be a video interview, but due to technical difficulties, we had to run it as a Q&A. Big thanks to CochraneImage, for taking such great shots!]
Also, after reading the Q&A below, there's a lovely download from Miguel Atwood-Ferguson Ensemble, where they do a rendition of Donny Hathaway's "Someday We'll All Be Free" featuring Bilal on vocals.
Airtight's Revenge hits stores September 14th and can be pre-ordered here. Get one for yourself and a friend!
*****
Muphoric Sounds: Who is Bilal?
Bilal: I'm a musician. I make music from the day that I experience and see and use my music as a platform.
MS: When your career started it was rumored that Erykah Badu was responsible for discovering you. Who were the people that helped start of your career?
Bilal: I kind of met Amir [Questlove] first. But I was also supposed to do a tune with Q-Tip. I met everyone around the same time when I moved here [New York] from Philadelphia. And I also started to work with one of the Mtume brothers, James Mtume.
MS: If you were to look back at your career as a musician, what are the most significant lessons learned?
Bilal: I've learned a lot of things. The main lesson, I would say, is being true to myself to making music from an honest place.
MS: The Soul Aquarium Movement. What happened to them?
Bilal: Oh, big question man! Initially, it started off as photo that took showed musicians that always worked together and it appeared in Vibe Magazine. Somebody told me that we were supposed to do an album together but it never happened. We're all still in contact today. I did a show with Erykah the other day. I talk to Amir all the time. We just did a show at Highline Ballroom recently. Q-Tip, I just did a show with him two days ago. Common, we talk all the time.
MS: You've collaborated with a lot of great artists in the past – both mainstream and independent. Who would you like to work with next, who you haven't worked with before?
Bilal: There's a lot of cats I want to work with. I would love to do something with Thom York.
MS: That would be amazing. Let's put it out there.
Bilal: Yeah! That's how everything has been happening. I think about it and then it winds up happening.
MS: Your falsetto is compared to Prince all the time; however, I've never heard you talk about the comparison. Do you like Prince? (Question mark face)
Bilal: [Laughs] I like Prince. He definitely is one of the artists I grew up listening to. I can remember when Purple Rain came out and listening to it in my sister's room at my grandmama's house. I've been inspired by a lot of things. I initially started to use the higher range of my voice through jazz, because I scat a lot. That's what I'm used to hearing, almost like an instrument, to try and be like a trumpet. When I was first signed, I was doing a lot if R&B. It just came out like that. I listened to a lot of things, including Prince [laughs]. He's such force of talent.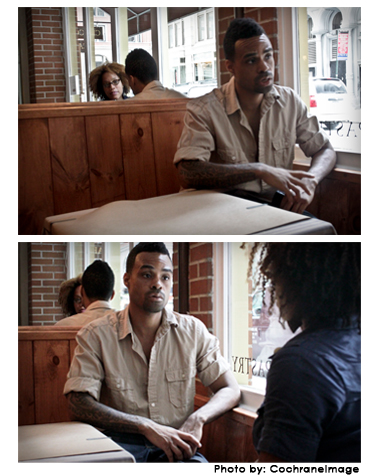 MS: 1st Born Second – You were so young when the album came out?
Bilal: Yes, I was 20.
MS: There was so much wisdom, pain, and happiness on that album. Where was it coming from at such a young age?
Bilal: I don't know [laughs].
MS: The stories and the emotions, felt like it was coming from an old man.
Bilal: I really don't know where it was coming from. You could say I've always been a hopeless romantic, who thought about love too deeply [laughs]. I don't know. You could say, I just listened to good records as a kid and I would sing them. I've been singing since I was 4 yrs old. My Mom had me singing in church. And then my Pops, he was very good friends with a guy in who had a jazz club Philadelphia. So from high school and even earlier on, my dad would take me to the club to hang out with his friends, listen to the music. Man, I could remember earlier on the sound of the music, and saying, "Man, we're going to be band, playing in clubs! I remember from when I was young always saying that I was going to be a musician.
MS: What was your favourite song on 1st Born Second?
Bilal: I loved them all. You could say, I like doing "Sometimes" because it was so fun to do and I have stories for all of them.
MS: Love 4 Sale, seemed like the bitter/sweet album. You work on a great album, it leaks, and then gets shelved by the label. How did that scenario impact you?
Bilal: [Sighs and shakes head] It is exactly what you said, it was bitter sweet. It started off kind of sad, you know. I put a lot of work into it. I was getting to a period where I wanted to break down the structure of how I was writing music. I was starting to try different carriers and different cadences to write to music because I felt that I was starting to get into a contrived type of head. I was experimenting with different things and my label didn't really how it would translate. Then it got bootlegged and then they would say, "Ah this is crazy, it's weird…" But then, everybody started to like it. I got such a positive reception, that I was able tour to promote the album, like it was an actual release.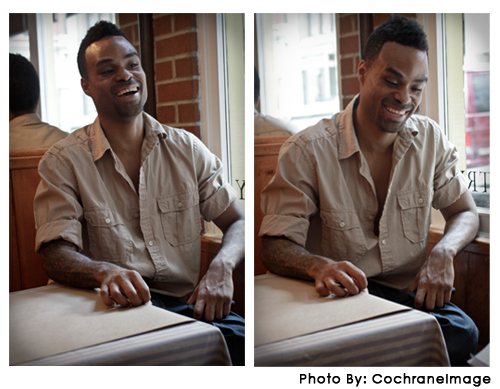 MS: That's the thing. How did you feel on that tour, performing those songs, and people singing them back to you?
Bilal: It was strange. But it's the time we're in, you know. I was talking about this the other day about the change that's happening and the labels not really understanding it. Somebody told me that, 'music is basically free now, how do you feel about that? I was like, "Ahhhhhh…"' Don't know how I really feel about that.
MS: A thing of being on the road for the rest of your life….
Bilal: I just want to do real music that will last and stand the test of time. That will last over a saturation of time.
MS: The ladies love them some R&B singers. How do you handle the female attention? How is it for you on the road?
Bilal: Wow! [Throws head back]
MS: Are you single?
Bilal: No, I'm not single; I got kids.
MS: So how do you deal with the fan fair?
Bilal: It's strange, I never thought of myself as a sexy guy [laughs]. I've been called weird my whole life, you know what I mean. [laughs] When you're doing the show and everybody is into it, it just brings everything to another level, being able to go that much further, and it makes the show that much better. I can just relax into it. My shows are almost like jazz. Every night is different, and we start to stretch and go to different places with the music.
MS: You were talking about the Internet. You doing the social media now. How is that going? Do you like it?
Bilal: It was a big change. I'm getting used to it. It's fun though. I get to show my personality, meet people, talk to the fans, and actually get to know how they feel, and know what they like. It's cool. It's one of the avenues to get my music out there. Things are different now.
MS: Airtight's Revenge. I've heard it. I won't lie.
Bilal: [Uproarious laughter]
MS: It's a departure from "neo soul." Was that part of the plan?
Bilal: I never considered what I did as a "neo soul." My first album, I did a song with Dr. Dre! Did Dr. Dre do neo soul? No. I think at that time, Blacklilly had started out of Philly through a jam session that Roots had started to do. I had known about the jam sessions they were doing in New York too. I had moved to New York at the time, I think it was around 1999, and I was studying Jazz at The New School. I really came from a jazz place, my whole focus behind my work was to Jazz. I consider myself a jazz musician, a jazz composer. When I'm writing things down, I'm writing things that are open ended and can be translated. So when I would hear, 'you're neo soul,' I didn't really like it, it put me in a box. My whole thing was mixing genres, not just soul but all different sounds, and make it come together. Kind of like what a Frank Zappa would do, or even Prince. Out of different sounds, creating something new, that can stand on its own.
MS: Right. It's not really a genre.
Bilal: Right. Like Sly & the Family Stone, that's what they did, incorporating all different vibes. Somebody told me that Miles Davis actually created a lot of Sly & The Family Stones cords. That's the way I approach my music and do things, kind of a mixture.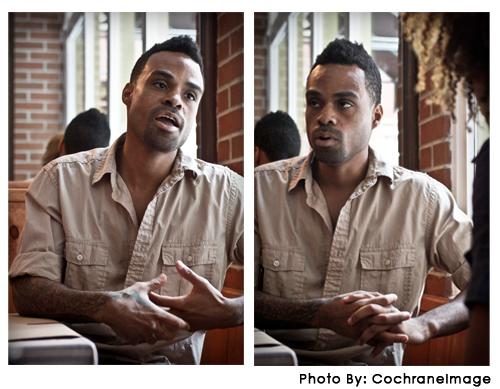 MS: What's the concept behind Airtight's Revenge?
Bilal: The concept comes from reading a lot of Donald Goines novels and the first thing that comes to mind is Airtight. There's this book that Iceberg Slim wrote called Airtight Willie and Airtight Willie is kind of like what I've been going through, my album being bootlegged.
MS: What would have been great is if the album that people are getting their hands on now through the web, was in fact an "Airtight Revenge," — the releasing of a fake album.
Bilal: [Laughter] And with each track they'd get a…Syke!! at the end [laughs]. The good thing is, out of all of this, I'm still inspired. I'm still sure about what it is that I want to do in my concepts as a songwriter. I'm more free-flowing than ever, you know. That's really the revenge. I have more love, I haven't been tainted by it. I've been burned through fire, and came out golden.
MS: Who worked with you on the album?
Bilal: On this album, I worked with fewer people. This time around I produced with producers. Conley has been playing with me for years and he kind of knows what I like. 88-Keys is a good friend of mine, aside from working with me on the album. "Think It Over" we had for ages. Then it was a thing of playing instruments over the top of it. That's really what this album is about, mixing electronic with live. I really went from the ground like how John Lennon, and those cats would write, making a strong tune with just voice and one instrument, and then you can move on build a track out of it. That's what I tried to do with every tune on this album. I would write the song and bring it to the producer and together we would come up with something. I was very hands on with this album.
MS: So when you're working with producers, do you come in with a blank slate, or is it already mapped out?
Bilal: This time around, I came in with something, whether it was chords, song or a melody and a clear understanding of certain lyrics as we progressed. Then I would add on lyrics, but definitely tried to make the song first, then build.
MS: Airtight's Revenge seemed more socially and politically aware than your previous works. What were the specific things that shaped Airtight's Revenge?
Bilal: I'm an older guy now, in my 30s. I won't say I'm old, but I see life from different angles now; it's not so straight forward for me anymore.
MS: With age, comes responsibilities. You're now a dad, with two kids, one with autism and the other with sickle cell. Are you involved in any advocacy groups for either condition?
Bilal: I do the Walk for Autism, and I'm a member of the Autism Speaks. My kids are one of the most driving forces of my creativity now. They're both musically inclined as well. Musical snobs at best. My son likes everything from Justin Bieber to Billy Idol. Three years old! He'd be like [sings] "Dancing with myself…" Your three years old kid?! What you know about Billy Idol?!
MS: So what's next?
Bilal: Umm touring… Just hammering out the shows I'm doing right now; pretty much the promotional side of the album. I'd love to tour doing some jazz. It's a time when I can go out and turn what I've done into something else. I get to play with cool musicians. It's fun every night, like an adventure.
MS: Your touring schedules are crazy. Do you ever get tired of it?
Bilal: Only when my throat hurts.
MS: Will you be doing more work with Robert Glasper?
Bilal: Oh yes! Man, I've known Rob since college. He's played on all of my albums, from the very first one. We will always work together.
MS: So where can people find you online?
Bilal: You can find me at twitter.com/bilal_oliver.
****
Airtight's Revenge hits stores September 14th and can be pre-ordered here. Get one for yourself and a friend!
Free download – Miguel Atwood-Ferguson Ensemble – "Someday We'll All Be Free" featuring Bilal
5 Responses to "Interview with BILAL + "Someday We'll All Be Free" (Download)"