March 25th, 2014 |

Author:
Vanessa Warren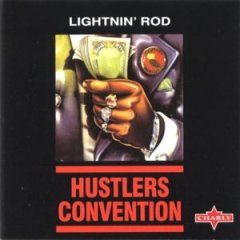 The Hustlers Convention, is one of rap's greatest lost album. As its creator, Jalal Mansur Nuriddin, the Grandfather of Rap and founding member of the The Last Poets recalls, The Hustlers Convention "went down like a murder mystery or something." The album was released in 1973 and is regarded rap's first album. Nuriddin never received the recognition the album deserved nor made any money from what undoubtedly influenced the evolution of rap music.
Lightnin' Rod's Hustlers Convention takes us through the life and time of two brothers, Spoon and Sport (who affectionately refer to each other as their "ace-boon-poon") as they finagle through slick card, dice, and pool games. Their "hustler supreme" bravado is heard from the album's introduction where Sport says, "I was snorting skag, while others played tag/ And running through bitches like rags to riches," as their story unfolds showcasing their artistry in deception. It would only be a matter of time before we're taken on a car chase, brought smack in the middle of a shootout, running from cops, to feeling the despair of being on death row. Hustlers Convention is a sensory experience, where its pace flows like a narrative out of a Iceberg Slim novel. The cadence transports you to a time when everything abound oozed Super Fly, and the incredibly tight musical composition, that it's startling to learn the band was actually Kool & the Gang before they'd reached super stardom status.
To keep this seminal work alive, Chuck D is working as executive producer on the Hustlers Convention with Mike Todd as the director to chronicle this missing part of rap music's history. The film will feature all members of The Last Poets, KRS-One, Chuck D, and Melle Mel and is scheduled to release some time in 2014.
While you're here, you can stream the album below but the album is also available on iTunes and Amazon for purchase. You need this in your arsenal!
Hustlers Convention – Side A

Hustlers Convention – Side B