September 17th, 2012 |

Author:
Robert Trujillo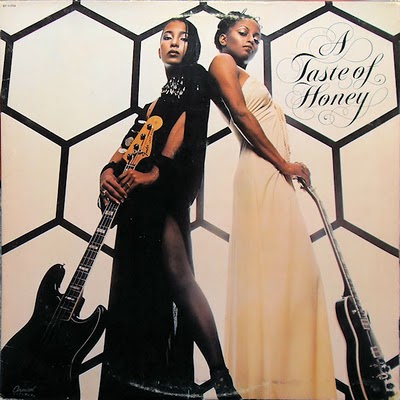 I remember the first time I picked up this record and thought, 'Some fine sisters? Who sing and play guitar too?! Uhh, hell yeah!!' A Taste of Honey's self-entitled album was released in 1978 on Capitol Records and is a rare gem of musical styles, ranging from their smash disco hit "Boogie Oogie Oogie" to soulful grooves like "If We Loved." Produced by The Mizell Brothers, A Taste of Honey wrote songs for first encounters, for those in lust, and simply for the making of love. Band members were Janice-Marie Johnson (vocals, bass), Hazel Payne (vocals, guitar), Perry Kibble (keys, co-producer), and Donald Ray Johnson (drums). As a group their career was short lived, but as solo artists and performers some are still very active in the music industry today. Between 1971 and 1982, the group released four studio albums, received a Grammy for Best New Artist, the album A Taste of Honey and the single "Boogie Oogie Oogie" sold at platinum levels, and they also released several chart topping songs nationally and internationally.
Lyrics like, The one is yet to be born, who will love you as much as me could get aman pregnant!! Very sexy, very poetic. When listening to songs played on the radio these days, expressed attraction are like rusty pick up lines we've heard a million times. For a potential love to catch your ear or your heart, they really need to have a special voice. And that is what Janice, Hazel, Perry, and Donal expressed when they played together on "If We Loved." A beautiful piece of art from the West Coast — Los Angeles, to be exact. Share this with your crush when it starts to get cold.
"If We Loved"
Audio clip: Adobe Flash Player (version 9 or above) is required to play this audio clip. Download the latest version here. You also need to have JavaScript enabled in your browser.
2 Responses to "IN THE TRUNK: "If We Loved" by A Taste of Honey (Audio)"