March 8th, 2011 |

Author:
Robert Trujillo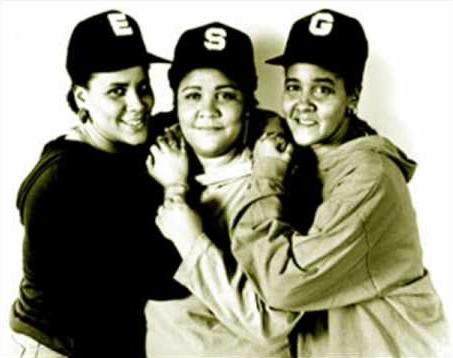 ESG is one of the things I most love about NYC; people breaking rules and playing, or dancing however they want to. "Emerald, Sapphire, and Gold" is Renee (vocals), Valerie (drums), and Marie Scroggins (congas and vocals), David Miles (guitar), and Leroy Glover (bass). The group was formed by three sisters from the Bronx in the late 70's. Fusing sounds from Disco, No Wave, and Punk together, the group created something magical. The song "UFO" was released on their first self-entitled EP on 99 Records in Manhattan. The group recorded three EP's, four LP's, and one live album. The group has disbanded now, but randomly perform in New York City together. Until recently, I wasn't aware of the profound blends of No wave, Punk, and Disco of the early 80's like these in NYC. But every time this record comes on, I hear my childhood.
I didn't know who performed this song until my boy Miguel played it on a long ride a few years ago. If I had to list all of the people in hip hop who have sampled ESG, I would need a lot of sample credit room. But some of my favorites who rhymed over ESG's sound are Public Enemy, Gangstarr, 3rd Bass, Das EFX, 2Pac, and Big Daddy Kane.
"UFO" starts off crazy. You hear these sound effects that are foreign, yet right at home on planet X. I'm honestly not sure what they used to create them, synthesizers maybe. Who knows? All I know is, when the drums come in, they hit hard and you just nod your head, tap your feet, or dance. The girls sing on other songs like "Erase you" and "Dance" but this is an instrumental spaceship ride through time and space on the 6 train. Maybe it describes the South Bronx at a peculiar time, but it's raw and unapologetic. It's a stripped down bomb ticking with drums, bass guitar, and synthesizer effects crashing in and escaping randomly throughout the track. Turn it up and listen for yourself.
"UFO" by ESG
Audio clip: Adobe Flash Player (version 9 or above) is required to play this audio clip. Download the latest version here. You also need to have JavaScript enabled in your browser.