August 20th, 2012 |

Author:
Vanessa Warren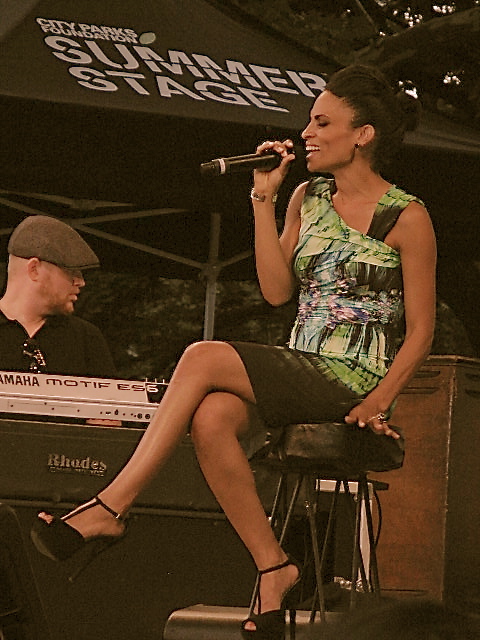 Last week ImageNation and Central Park's Summerstage hosted a special evening to celebrate the 100th Anniversary of the African National Congress, with special performances by South African award winning singers, Goapele and Yolanda Zama, followed by a special screening of the classic film Come Back, Africa, which explored the racial conflict of apartheid in 1959.
Muphoric Sounds was able to speak with Goapele for a few moments during her hectic schedule between touring and the premiere of "Sparkle," of which is she plays a role. Her set at the ANC celebration was a mixture of her past recordings, a rendition of Bob Marley's "Concrete Jungle," a Motown inspired track called "Running," and of course, a little Roy Ayres (it never gets old). The incense burning crowd (seriously, someone was burning incense), created an ambiance quite fitting to Goapele's relaxing vibe.  It was a lovely celebration.
**INTERVIEW WITH GOAPELE**
MS: What does being a part of this anniversary mean to you?
Goapele: Being here today for the 100th Anniversary of the ANC and getting to perform at Summerstage is like a full circle for me. Just a big honor. I was emotional before the show, and was just thinking about how full circle everything is, the music I grew up listening to — Hugh Masekela and Miriam Makeba, where things were as a youth, what was going on in South Africa, and some of what my family was wrongfully experiencing while I was growing up in the Bay Area. I am so thankful that in my lifetime the apartheid system was abolished. South Africa is still in some transition, like America is in some transition to still really equal things out economically. But there is a new South Africa and how inspiring that the ANC has been around for 100 years and still going strong!
MS: Do you feel a part of that tradition? You talked about Hugh Masekela and Miriam Makeba, all of those artist who were so instrumental to giving hope to the people. Do you feel a part of that long tradition?
Goapele: Yes, I do feel a part of that long tradition because they're artists who influenced me. The music that they did was so honest, and that it wasn't even allowed to be played in South Africa as they were touring the rest of the world. I believe in reflecting honesty and reflecting reality in my music and making music that will touch people emotionally and bring us together.
MS: One of the things I didn't know was your involvement in community, doing outreach and activist work. What project are you most proud of working on?
Goapele: I think one of the organizations that has been the most personal to me is Be Present, Inc., which is about the empowerment of girls and women and bringing people together across diversity to just having honest conversations, and not getting caught up in politics, but make it very personal. And then through personal change, we can make political change.
MS: Will you pause this weekend to go and see Sparkle movie?
Goapele: Yes, in the middle of this whole tour, I'm going to go to the premiere on Thursday and fly back. I'm really excited about it.
MS: What was your favorite memory of the whole Sparkle experience?
Goapele: My favorite memory was getting to work with Fatima Robinson, the choreographer, who I've been wanting to work with for a long time. Getting to sing and dance at the same time, which is what I did as a kid and haven't done much of it as an adult. So it's kind of like, I'm living out my dream.
MS: I love the retro song you performed tonight and wondered why haven't you and Raphael Saadiq done something in that realm together?
Goapele: Me and Raphael talk so much and we actually were in the studio years ago working on some stuff. I love his music and we support each other. We definitely have that authentic retro sound. The song that we did today, "Running" was produced by Chuck Harmony. It was just good to have that Motown feeling and sound that it is seamlessly fitting to the time.
MS: Did you get to meet Whitney on set?
Goapele: No, unfortunately I didn't. I wasn't on set with her. I am blessed to be a part of her last legacy. She was an amazing woman.
MS: What's next for Goapele? What can we look for?
Goapele: I will be back in the studio and will be putting out more music and looking into more film projects also.