Thursday, November 18th, 2010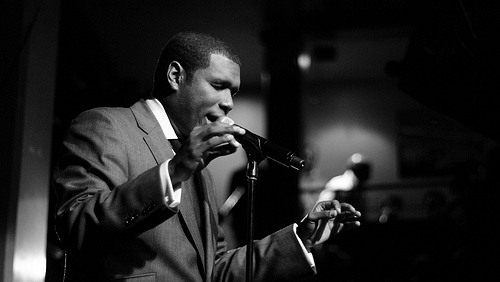 Jay Electronica has finally gotten himself a major record deal. The façade looks perfect - signed to the label run by one of raps most authentic heavy weights in the business, Jay-Z — who's not only an exemplary business man, but an outstanding lyricist. Sounds like a win-win situation really. However, when you look at the history of both artists, Jay-Z, notorious for signing artists and not releasing music by them and Jay Electronica's sporadic style of releasing music—we could certainly be in for a long wait.
At the advent of signing to Roc Nation, saw the release of the following tunes to get us excited about what's to come. "Shiny Suit Theory" featuring Jay-Z and The Dream, in my opinion, is not the strongest out the two tunes, however, Jigga Man's verse clearly gives him the lyrical edge on the track. Oddly enough, I don't hear The Dream on the cut (tell me if you do). But "The Announcement" opens with a militaristic style drum sequence as John F. Kennedy's Rice University speech about the US Space Effort in 1962 plays over the track. The JFK quote, "We choose to go to the moon!" gives the song an inspirational air as Jay Elect's fluid delivery leaves you hanging on every word. I can't wait for his album!
Listen to the tunes below and take the poll to see what the favored tune is.
"Shiny Suit Theory" feat. Jay-Z, The Dream [Download]
Audio clip: Adobe Flash Player (version 9 or above) is required to play this audio clip. Download the latest version here. You also need to have JavaScript enabled in your browser.
"The Announcement" feat. John F. Kennedy [Download]
Audio clip: Adobe Flash Player (version 9 or above) is required to play this audio clip. Download the latest version here. You also need to have JavaScript enabled in your browser.