Tuesday, April 30th, 2013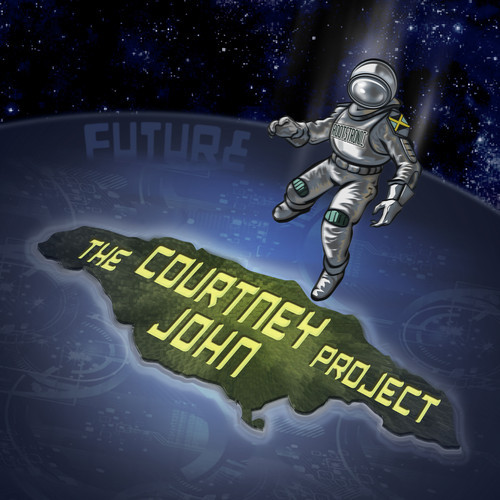 The genesis of The Courtney John Project is a labour of love and an exploration of different musical forms.  Future is the debut album from The Courtney John Project and features lead singer Courtney John, who is no stranger to the music industry – having won awards and topped reggae charts. And it should also be noted that both John and producer The Wizard are descendants of reggae royalty (The Wizard is the daughter of the great Beres Hammond and John is his nephew). With that kind of pedigree, it's no wonder that they partnered with Steven "Lenky" Marsden, Grammy-winning producer who has worked with dancehall acts such as Sean Paul, Wayne Wonder, and Lumidee.
The Courtney John Project subverts reggae music but at the same time preserves its core elements, where the trio incorporate electronic formations to create a new musical genre, that they describe as rootstronic.
Future is positioned as a reggae revival, reminding us of what it was, and what it can become, and from listening to this album, it can certainly become a movement. John's lovers rock vocals harken back to some of reggae's great vocalists, such as Desmond Dekker, Alton Ellis, and of course his uncle Beres. The album exhibits music's boundless universality, allowing three people to step right out of the box and into a new musical sphere.
With Future hitting the stores today, we were able to catch up with Courtney John to talk about The Project, his career thus far, and what's in the future for the group. As you read the interview, you can listen to a couple of tracks embedded between questions.
Released on FiWi Music, Future is available at iTunes and Amazon. Support great music and buy your copy today!
Muphoric Sounds: How was The Courtney John Project born?
Courtney John: They were looking for a track to place in the Oliver Stone directed movie Savages. The Wizard and I, were working on a track, well actually the first single "Soul of A Man" and we called in Lenky to do some additional keyboard. The song wasn't chosen, but while in the studio we realised there was a great energy; one that we had to capture more of. A new sound was being created. It was days later that The Wizard and myself decided to call this sound "Rootstronic"…the band was immediately formed.
MS: Will it be a one-off Project in style and sound?
Courtney John: No, I plan to keep the sound evolving and keep the doors to the Project open to have other musicians and artists be a part of The Courtney John Project creative process.
MS: Why did you call it "The Courtney John Project"?
Courtney John: I decided on the name "The Courtney John Project" because it represents what the process was like initially…I was experimenting with a new sound vocally and I invited these two talented musicians into the process and it seemed like we were working on a project.
MS: Your relationship with The Wizard is not only a musical one, but you are cousins! When did you decide to start making music together? How have you helped each other grow as artists?
Courtney John: Yes, we're cousins. We started out writing songs together many years ago and it kinda segued into a mentorship vibe when she expressed that she wanted to produce. It's a good working environment because Wiz brings all that is fresh and new and I bring the years of experience. She gives me the ability to always try to innovate and keep things on the cutting edge. I guide her through a lot business knowledge that she needs…writing techniques and artist development.