May 3rd, 2010 |

Author:
Vanessa Warren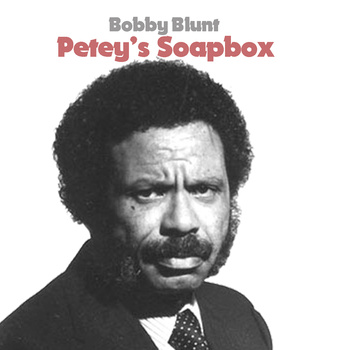 The cover art for this EP piqued my curiosity, but due to the schedule being insanely busy, I didn't get a chance to "click & listen." Then miraculously, I received a nudge via email from Bobby Blunt, telling me to check it out. From the start, the vibe, the lyrical flow, and the content, had me instantaneous nodding my head.
Petey's Soapbox is inspired by the life of shock jock Petey Greene, whose radio show was the launch pad for Howard Stern's radio career. His prolific life was chronicled in the film Talk to Me, starring Don Cheadle. Petey's Soapbox is the spirit of Greene, which is a fearless one. As Bobby Blunt says, "Petey's Soapbox is dedicated and created in the spirit of the unpopular truth."
From the opening, MC Bobby Blunt (from Virginia) and producer, Grand Ear (from Pittsburgh) capture his essence against vintage style beats that perfectly match the tone of the EP, which is fast, rabid, in your face, and better yet, in your ear! What better way to pay homage to a distinctive person? Check out "Uptown" below and then click over to Bobby Blunt's Bandcamp to hear the full EP. *Remember, support independent artists who provide muphoric pleasure.
2 Responses to "Bobby Blunt – Petey's Soapbox EP (Download)"