May 27th, 2014 |

Author:
Vanessa Warren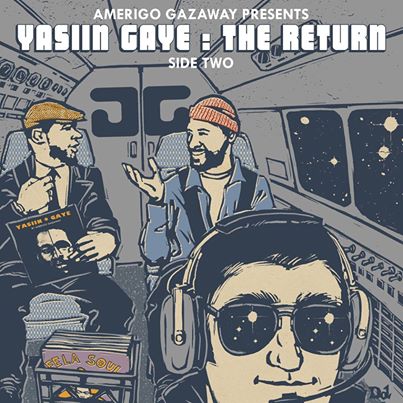 We are pleased to inform you of the forthcoming second part of Amerigo Gazaway's Yasiin Gaye: The Return (Side Two). By the looks of it, we should hear it in its fully entirety by next week. If you're unfamiliar with Amerigo Gazaway's work, visit his website but he is known primarily for his mash up albums, particularly Fela Soul and Bizarre Tribe. What sets the Yasiin / Gaye project apart from his previous releases is his approach and the level at which he re-purposes Gaye and Bey's musical sounds, turning them into something so fresh and so now. It truly is extraordinary to hear, if you're a fan of both artists.
New York Magazine cartoonist, Drew Dernavich assisted in creating a great cover concept, bringing the likeness of both artists, but also taking a satirical jab at the continued copyright issues Gazaway's projects experience.
As we do not have a definitive date for the release, it is advised that you follow Gazaway on Facebook and Twitter to stay in the loop as we can never be sure if the RIAA will send another cease and desist order, as they did for the Side One.  But in the meantime, check out "Travellin' Man Part II" below and the short teaser video with Yasiin Bey. Amerigo Gazaway's catalog is also available for purchase at Legitimix.