Saturday, March 31st, 2012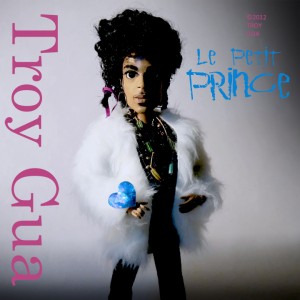 Oftentimes the art world can be an expression of serious, referential art. So it's refreshing to come across someone who is truly having fun with it, and using a subject matter close to my heart, Prince.
Troy Gua is a Seattle-based visual artist, has been working furiously over the past five years, creating art that explores pop culture and his fascination with the social medias. His most notable exhibits are his Pop Hybrids, where he combines two iconic figures and reduces the personality into logo, reducing their individuality into a collective, and reduces the photography to a design, creating interesting images that force you to create your own meaning and subversion. His Colorbandz, are portraits at the speed of technology, a concept at first glance seem like bands of colour but as you grasp the concept of the Colorbandz, it begins to come clear. (See Troy Gua's self Colorbandz portrait at the end of interview.)
But it wasn't until Gua tackled the project of making his own Gerry Anderson inspired marionette of his musical idol Prince, the Le Petit Prince, that his name traveled beyond the West Coast. As you will see below, the marionette captures the essence of Prince, from his hypnotic stare, and his perfectly defined lips, to this pristine and unique sense of style. Gua's symbolic tribute to the artist who has inspired him throughout his life has garnered much attention, and we are sure to see more of Le Petit Prince in the future.
Muphoric Sounds got the chance to talk to Gua about his work and what sparked him to pay homage to Prince in what he calls, "a loving tribute, that is meant to be a parody" of his idol. Le Petit Prince is quirky yet perfect, all at the same time.
To view more of Troy Gua's work, visit his website at www.troygua.com. You can also "Like" his Facebook page to receive updates on Le Petit Prince.
******
INTERVIEW WITH TROY GUA
Muphoric Sounds: Who is Troy Gua?
Troy Gua: I'm a dude who just grew up expecting that I was going to be an artist. That's what I got a pat on the head for as a kid. And I've been chasing that pat on the head ever since.
MS: Has it always been in visual arts?
Gua: Yes, since I was little kid I just liked to draw, constantly. I was the youngest of four kids. The next one was 9 years older than me; so I was sort of like an only child, spent a lot of time by myself, and liked to draw musicians and pop stars. I made a series of poor decisions in my late teens and twenties, married my childhood sweetheart, and kind of left my dreams on the wayside. And I kind of gave up on who I was supposed to become and played house for a few years. Became an alcoholic and a drug addict actually. [Laughs] I always had a job. I was married and responsible but I was kind of a shell of my real self, and medicated and numbed myself to that fact for a long, long time. Eventually, that all caved in, and my whole life flushed and it was a reboot. And I met this woman online named Catherine and we fell in love and kind of hit the ground running. We decided to get sober together and make a happy life for ourselves. That was around 2005 when we met and since then I've been focusing on getting that dream in order.
MS: You've been working solidly since 2008, what has been the best experience for you so far?
Gua: To be completely honest, this [Le Petit Prince]. This has been the most attention I've had. I'm in Seattle, which is a pretty insulated community, this bubble in the corner of the country and I've been working my butt off for about five years, constantly showing work, feeling like a rubber ball bouncing around the room not being able to break out. And I'd been frustrated for a while with that.
MS: But it seems to be working.
Gua: The funny thing is, as soon as I was discouraged enough, to say, 'screw it, I'm not going to make this kind of art, it's bringing me down, I'm just going to start having fun …and make myself a little Prince doll.' [Laughs] That's when everybody started to pay attention, which is amazing. But of course, it's Prince!