Friday, December 31st, 2010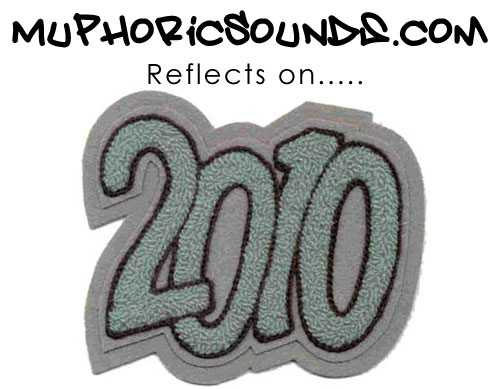 Muphoric Sounds had yet another an awesome year. Click on the artist's name, to see what you may have missed this year. At the start of 2010 we debuted with our first video interview with Brooklyn's ghetto metal group, Game Rebellion—we were able to catch them at their EP release party for Sounds Like a Riot at Santos Party House and then again at Le Poisson Rouge to film the interview. We got to chat with alternative singer Res, who is currently hard at work on her 2nd official album since her debut How I Do. The most anticipated release of the year was from Bilal and Muphoric Sounds got to speak to him before before the release of his Airtight's Revenge. (He received a Grammy nomination for "Little One" on the album!) To close out the year, we also got to chat with the incredibly smooth artist, Vikter Duplaix about his long musical career and challenges faced in this current musical landscape.
Silhouette Brown released two; DJ Kiva put out the first ever album produced solely on a PSP console BTR8ION – which got a lot of my male friends talking! We also featured cool live footage from Massive Attack's show at Terminal 5, Roy Ayers at Betsy Head Park in Brooklyn, Bilal at Metrotech in Brooklyn, The Roots Picnic in Philadephia (with The Roots, Foreign Exchange, YahZarah, Nneka, Mayer Hawthorne, Jay Electronica, John Legend, and Wu-Massacre), Raphael Saadiq at Central Park's SummerStage, retro soul duo Nikki and Rich, and Little Dragon at Le Poisson Rouge.
On a grander scheme of music, 2010 saw the comeback of Sade with Soldier of Love. While the album was a sleeper to my ears, I will get to see Ms. Adu perform live in June for what I'm sure will be her last ever tour. The Roots gave us the brilliant How I Got Over—from production, to lyrics, to the collaborations; it was excellent! Erykah Badu's New Amerykah Pt. 2 dropped, with the video "Window Seat" turning objectification on its head! Salute to Ms. Badu on that one! I said I hoped that D'Angelo would not play us in 2010 – but unfortunately, he did. All that talk of Prince, Questlove, and Raphael Saadiq working on his new album, just disintegrated into thin air. I have no choice but to continue blasting "Glass Mountain Trust," the tune he did with Mark Ronson.
I'd also like to take this time to thank all the underground artists who reached out on Twitter and Facebook to share their music with us - Shade Cobain, BusCrates 16-Bit Ensemble, Born I Music, Moonsatellite, Nate Smith, Iman Williams, Eagle Nebula, ArinMaya, DiViNe SeVeN, Full Crate, Bobby Blunt, Huey Nuetron, Eric Lau, Malachi Rivers, Greymatter, J*Davey, BUG, Cubic Zirconia, Dela, Phraim, Daru Jones, The Opus, Oddisee, Onra, Paul White, Andreya Triana, Bonobo, Cecilia Stalin, and Kafele Bandele.
Wishing you all the best for 2011 and thank you for your continued support! We are very excited to enter the year 2011, to explore and discover more amazing Muphoric Sounds!
Peace + Love + Light
The Muphoric Sounds Team