Sunday, October 25th, 2009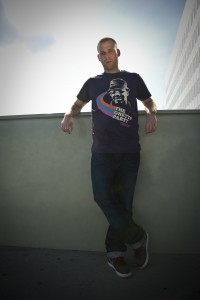 There's much debate on whether hip hop music is alive or dead. Hearing producers like CHIEF, you realize there are those who work hard to keep rap music as a true art form, pure in creation and where the ultimate goal is not commercialism, but appreciation.
Born and still residing in Lausanne, Switzerland, CHIEF makes me wonder about the vibrant music scene in Europe right now, as a lot of great stuff is coming from overseas. Founder of Feelin' Music record label, his new full-length release, Collabo Collection features an A-list group of guest artists such as Moka Only, Kissey Asplund, Le Nubians, Dynas, Co$$, Sene, and blu., to name a few. Collabo Collection is a blend of smooth and chilled Dilla infused beats where his collaborations bring the tunes to fruition, notwithstanding the cool instrumentals within the collection. The beatmaker shared with Muphoric Sounds his philosophy and method to creating, his new album, the power of the internet in making musical connections, and his various music influences. Truly someone to keep your ear open for.
Kick back and listen to some of the tracks off Collabo Collection below and for Free Exclusive Download – "Lost Love" featuring Co$$, who will be releasing his new album on Tres Records very soon. Collabo Collection is scheduled for release November 3rd.
Demon Love ft. Kissey Asplund and Moka Only from Collabo Collection
Audio clip: Adobe Flash Player (version 9 or above) is required to play this audio clip. Download the latest version here. You also need to have JavaScript enabled in your browser.
Tru Love ft. blu. & Sene from Collabo Collection
Audio clip: Adobe Flash Player (version 9 or above) is required to play this audio clip. Download the latest version here. You also need to have JavaScript enabled in your browser.
There is so much great music coming from Europe, to a point that people are beginning to think Muphoric Sounds only features music by European artists. How do you describe the music scene in Switzerland?
Although Switzerland is a tiny country, the music scene is definitely very rich, especially considering the size of the country. As we speak 3 different languages in Switzerland (French, German, Italian) depending on which area you live in, there are lots of different influences, sub-cultures and music styles. Each part of Switzerland somehow bears mad similarities with the bordering country using the same language, i.e. France, Germany and Italy. The rock and pop scene is the biggest, but has no chance to export itself due to the language issue.. let's not even mention the accent for those who try anyway. Both the electronic and hip-hop scenes have been growing stronger over the last few years, and quite a number of Swiss producers have been able to make a name for themselves outside of our mountains. There's definitely talent, passion, and involvement here.
How did you get started?
Alright, this is going to look like a "copy and paste", every producer from my generation probably has the exact same story! I first started DJing when I was 14 years old, it was in the 90's and at that time the hip-hop scene was really taking off in Switzerland, thus I immediately got interested in that scene. When I was 21 I started making beats, with the usual heavyweights like DJ Premier, Pete Rock and such being major influences on my sound. Over the years, as my skills developed, my style evolved, took different directions, I tackled varied styles, and it finally turned in something quite different and more personal. I guess the goal of every beatmaker is to have your very own sound signature, create beats that can be very different from one another, but still retain that one special touch of yours, whether you can pin exactly what it is or not.
How do you describe your sound?
Electric, vintage, smooth, with an organic groove! I still like to start with samples and build up from that foundation, but the elements that truly make the track are all the sounds and tricks I then add, all the twitching which kind of hide the original samples.
What collaborations and moments at the start of your career made your realize you were onto something as a producer/DJ?
There wasn't actually one specific event that made me think I was onto something, instead it was a slow evolution. When I was a teen and I was djing and generally really into the whole hip-hop thing, I reached this point when you want to go deeper into it, get involved and add your own brick to the wall. So I bought a mpc and got started. Around the same time, I left my job and started a sound engineer formation. That allowed me to focus on music more generally, start my own recording studio, and hopefully this will allow me to avoid having to get a shitty job in the future!
Tell us about your new album "Collabo Collection" and the people you chose for the project.
"Collabo Collection" is not a real studio album, it's a compilation of tracks I made over the latest years. You can hear different influences or styles depending on when these tracks were recorded (between 2005 and 2009). I did a number of collaborations over the last few years with many different artists. With most of the artists, it was kind of an "exchange", you give them a beat for their album, they give you a featuring for yours in return. It all happened very naturally, I hooked up with different artists, others then came to me, etc…. and at some point I realized that I had quite a lot of tracks that I was really happy with and which had never been released, so I decided to compile the best ones and make an album out of it.